As an Amazon Associate committed to the mission of improving the lives of our readers, Live-Clear.com receives a small commission from eligible purchases made through our affiliate links. This revenue enables us to keep producing insightful articles and other material.
In our fast-paced world, keeping an eye on our pets while we're away from home has always been challenging. Thanks to the wonders of technology, intelligent pet feeders with cameras have become an invaluable addition to the lives of pet owners. These innovative devices not only allow you to feed your furry friends remotely but also enable you to interact with them, ensuring their well-being and your peace of mind.
This comprehensive guide will delve into the world of intelligent pet feeders with cameras. We'll discuss the benefits, the features to look for, the top products on the market, and answer some frequently asked questions to help you make an informed decision for your beloved pets.
Introduction
The days of worrying about your pets' well-being while you're at work or on vacation are over, thanks to smart pet feeders with cameras. These devices combine the convenience of automatic feeding with the reassurance of watching your furry friend from anywhere with an internet connection.
Benefits of Smart Pet Feeders with Cameras
Smart pet feeders with cameras offer numerous advantages, making them a must-have for pet owners. Let's explore some of the key benefits:
Remote Monitoring
One of the primary benefits of a smart pet feeder with a camera is the ability to monitor your pets remotely. Whether at the office or halfway around the world, you can check in on your pets via a mobile app to ensure they're safe and comfortable.
Scheduled Feeding
These feeders allow you to set a feeding schedule for your pets, ensuring they receive their meals on time. You can customize portions and feeding times to meet your pet's specific needs, whether they require multiple small meals or a few larger ones.
Portion Control
Maintaining a balanced diet is essential for your pet's health. Smart pet feeders give you precise control over portion sizes, preventing overfeeding or underfeeding. Some models even offer weight-based portion recommendations.
Two-Way Communication
Many smart pet feeders feature two-way audio, allowing you to speak to and hear your pets. This feature can provide comfort to your pets and alleviate separation anxiety, and it's also a fun way to interact with them during the day.
Food Freshness
Smart pet feeders are designed to keep food fresh for extended periods. Some models have airtight containers and refrigeration options to ensure your pet's food remains appetizing.
Alerts and Notifications
Stay informed about your pet's mealtime and behavior. Many devices can alert your phone if your pet doesn't eat, ensuring you can address any issues promptly.
Peace of Mind
The most significant benefit of a smart pet feeder with a camera is the peace of mind it provides. Knowing that your pet is well-fed, happy, and not experiencing any distress can reduce pet owner stress and guilt.
Features to Consider
When shopping for a smart pet feeder with a camera, it's essential to consider the features that best suit your pet's needs and your lifestyle. Here are some key features to look for:
The camera quality is a critical factor. Look for a high-resolution camera that offers clear, sharp video, even in low light conditions. Some models have night vision capabilities for 24/7 monitoring.
Check whether the pet feeder is compatible with your smartphone or whether you use iOS or Android. A user-friendly app makes it easy to control the feeder and monitor your pet remotely.
Feeding Schedule Flexibility
Choose a feeder that offers flexibility in setting feeding schedules. Adjusting portion sizes and meal times according to your pet's needs is crucial.
Ensure the pet feeder allows you to customize portion sizes to prevent overfeeding. Some advanced models offer the option to dispense both dry and wet food.
Two-way audio is an excellent feature for interacting with your pet. Look for a system that provides clear communication and a speaker that isn't easily startled by your pet's barks or meows.
Consider the storage capacity of the pet feeder. Larger containers mean fewer refills, especially for multiple-pet households.
Choose between battery-operated or plug-in models. Battery-operated feeders are more versatile in placement but require regular battery changes.
Look for a durable and pet-proof construction to prevent your pets from tampering with the feeder. Models with locking lids are ideal for mischievous pets.
Integration with Smart Home Systems
If you have a smart home system, consider a pet feeder that can be integrated. This allows you to control your feeder through voice commands or automated routines.
Comparison of Top Pick Smart Pet Feeders with Cameras
| | | | | | |
| --- | --- | --- | --- | --- | --- |
| | | | | | |
| PETLIBRO Automatic Feeder | | | | | |
| Living Enrichment Automatic Feeders | | | | | |
| Nexxt Smart WiFi Pet Feeder | | | | | |
| | | | | | |
| Furbo Dog Camera Treat Tossing | | | | | |
Top 5 Smart Pet Feeders with Cameras
Now that we've discussed the benefits and features to look for let's explore the top 5 smart pet feeders with cameras on the market. These products have been carefully selected based on their characteristics, customer reviews, and reliability.
PETLIBRO Automatic Cat Feeder with Camera
The PETLIBRO Automatic Cat Feeder with Camera is a reliable and user-friendly smart pet feeder designed to meet the needs of both cats and dogs. With its 1080p HD camera, this feeder allows you to monitor your pet's feeding habits and interact with them remotely. It offers customizable feeding schedules and portion control, ensuring your pet is well-fed even when you're away. The built-in voice recorder lets you record a message for your pet, providing comfort and familiarity during mealtime.
Living Enrichment Automatic Cat Feeders
Living Enrichment Automatic Cat Feeders are designed to enhance the lives of cats and small dogs. They provide precise feeding control and monitoring through a mobile app. The 1080p HD camera offers clear visuals, allowing you to observe and interact with your pet. This feeder is excellent for pets with specific dietary needs, as it dispenses dry and wet food.
Nexxt Smart WiFi Pet Feeder
The Nexxt Smart WiFi Pet Feeder is a versatile and stylish option for pet owners. It features a 1080p HD camera for real-time video streaming and communication with your pet. With customizable feeding schedules and portion control, you can ensure your pet gets the right amount of food at the right time. The feeder's modern design makes it an attractive addition to any home.
LKV Automatic Pet Feeder
The LKV Automatic Pet Feeder is a straightforward, budget-friendly option for pet owners. It features a 720p camera for monitoring and interaction. You can customize feeding schedules and portion sizes to meet your pet's needs. This feeder is a practical choice for those looking for essential features without the frills.
Furbo Dog Camera Treat Tossing
The Furbo Dog Camera is unique in that it focuses on interaction and treat dispensing. While not a traditional pet feeder, it provides 1080p Full HD video quality and two-way audio. It's perfect for playing with your dog and monitoring their behavior. The treat-tossing functionality adds an element of play and rewards for your pet.
Each of these smart pet feeders with cameras offers unique features and caters to different pet owner needs, so it's essential to consider your priorities and choose the one that best suits your pet and lifestyle.
Installation and Setup
Setting up your smart pet feeder is generally a straightforward process.
Follow the manufacturer's instructions, connect the device to your home WiFi network, and download the corresponding app to your smartphone.
Once you've completed the setup, you can start scheduling feedings and monitoring your pet.
Some smart pet feeders may require additional steps, such as creating an account or registering the device with the manufacturer's online platform.
It's essential to ensure that your smartphone can run the app and that you have a strong internet connection for the best performance.
Maintaining Your Smart Pet Feeder
Proper maintenance is essential to keep your smart pet feeder in excellent working condition.
Cleaning Tips
Regularly clean the feeder and its components to ensure hygiene. This includes:
Removing any leftover food.
Apply a little detergent to the surfaces and clean them.
Rinsing thoroughly.
It is also essential to check for any signs of wear or damage and replace worn-out parts to prevent malfunctions.
Troubleshooting
In case of technical issues, If you're experiencing connectivity issues, try restarting your router and reconnecting the feeder to your WiFi network. – If you're encountering programming errors, try resetting the feeder to its factory settings and reprogramming it. They can guide the troubleshooting of common problems, such as connectivity issues or programming errors. They may recommend sending the feeder for professional repair or replacement if the issue persists.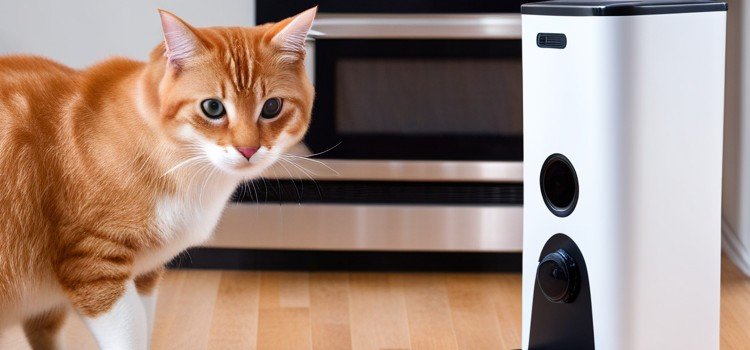 Conclusion
Smart pet feeders with cameras have revolutionized the way we care for our pets, providing convenience, peace of mind, and the ability to stay connected with our furry companions, even when we're not at home. Whether you're looking for advanced features like two-way communication or a simple yet reliable solution for feeding your pets, there's a smart pet feeder with a camera to suit your needs.
Frequently Asked Questions
Are smart pet feeders with cameras safe for my pets?
Smart pet feeders with cameras are generally safe for pets. They are designed with pet safety in mind, and most have mechanisms to prevent pets from accessing the food storage. However, it's essential to monitor your pet's behavior during the initial introduction to the feeder and ensure they don't become anxious or aggressive.
Can I use a smart pet feeder for both cats and dogs?
Yes, many smart pet feeders are suitable for both cats and dogs. Some even allow you to customize the feeding schedule for multiple pets with different dietary needs.
How do I clean and maintain a smart pet feeder with a camera?
Regular cleaning is essential to maintain your pet feeder. Most models have dishwasher-safe removable parts. Ensure you follow the manufacturer's cleaning instructions to keep the feeder in top condition.
Can I dispense wet food with a smart pet feeder?
Some smart pet feeders are designed to dispense dry and wet food, but not all models offer this feature. If you want to distribute wet food, choose a model that specifies its compatibility with moist or wet food.
What if the WiFi connection is lost or the power goes out?
Some smart pet feeders have backup systems in cases of a WiFi connection loss or power outage. For instance, they may continue to dispense food according to the preset schedule or have a battery backup. It's essential to check the specifications of the feeder to understand its response to such situations.
Investing in an intelligent pet feeder with a camera is an investment in your pet's happiness and peace of mind. So, take the time to choose the best one for your unique needs, and enjoy the convenience and reassurance it provides.
You Can Also Read More About: The Ultimate Guide to Choosing the Best Pet Smart Feeder
Remember, the well-being of your beloved pets is always a top priority, and with smart pet feeders with cameras, you can provide them with the care they deserve, even when you're not at home.
Amazon and the Amazon logo are trademarks of Amazon.com, Inc, or its affiliates.